Tips for a Sucessful Zoom Advising Session
To make the most of your virtual adivsing session, we ask that you:
Before joining the Zoom session to connect with an advisor, make sure you have access to a computer, tablet or smart phone with an enabled microphone. You don't have to have a webcam to participate, but you are welcome to use one if you would like to do so.
We recommend students log in to MySPC during your advising session.
If you are unable to log in to MySPC, please contact technical support for assistance before your virtual advising session at 727-341-4357 or onlinehelp@spcollege.edu
Find a quiet, safe location with a good internet connection. Please no driving.
Consider using headphones with a microphone, as this can improve the audio quality - but is not required.
Check your Audio and Video once you are admitted to the Zoom meeting.
Make sure that the microphone and movie camera icons at the bottom left do not have a red line across them.
Advising Appointments Resume Aug. 24

After Aug. 24, you can schedule virtual advising appointments with your assigned advisor. Starting Aug. 3, you can visit the Virtual Advising Center to see the next available advisor on a first-come, first-serve basis. You can review advisors by your assigned campus below.
Please have your documents prepared and ready, as this will give you more time for interaction on the subject of the appointment.
Assigned Advisors
To improve the student experience, SPC has implemented assigned advisors for most students. Log into MySPC to see your assigned advisor. You can reach out directly by phone or e-mail to your advisor from here. If you do not have an assigned advisor, you can request one here.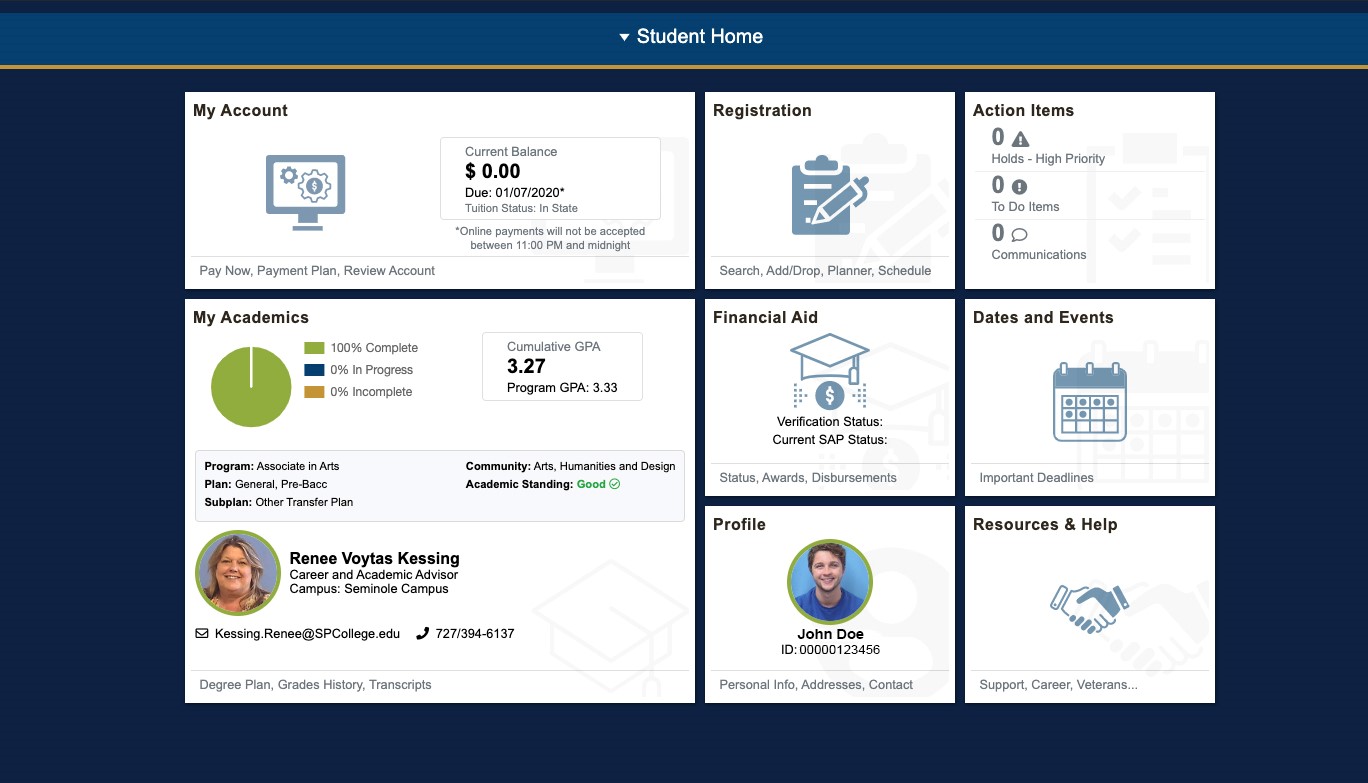 Contacts for specific questions
Establishing Florida residency for tuition purposes
residencyquestions@spcollege.edu
Sending your residency documents
residencydocuments@spcollege.edu
Questions regarding your application to a bachelor's degree program
4yrAdmissions@spcollege.edu
Questions regarding Commencement
commencementquestions@spcollege.edu
Ordering your official SPC transcript
SPCTranscripts@spcollege.edu
Questions about Financial Aid
ASKFAS Online or call 727-791-2485
Business Office
BusinessOffice@spcollege.edu
---

FloridaShines provides online access to educational services for Florida high school and college students. You can search for information about Florida's colleges and universities, explore online classes and degrees, check your transcripts and apply to take classes at other institutions. FloridaShines is a service of the Florida Virtual Campus. Visit SPC's profile page on FloridaShines.