Outstanding Alumna Helen Leslie Leaves Lasting Legacy
1/21/2022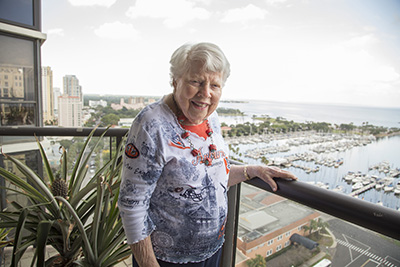 In January, 2022, Helen Leslie, at the time the oldest living St. Petersburg College alumna, died at age 100. It was a profound loss for the institution. Helen had long served on and even chaired the SPC Foundation Board and was named an Outstanding Alumna in 2012.
But true to form, before Helen passed away – she once again had her hands in something memorable: a gift of a million dollars to the SPC Foundation that will allow the Helen K. Leslie Scholarship to enrich students in perpetuity.
"Helen was a wonderful example of what a person can achieve when they combine passion, talent and a first-rate education," said John Brown, former president of the SPC Alumni Association. Helen attended St. Petersburg College in Spring 1940 and was the only female in her Mechanical Drawing class. In 1943, she graduated from Auburn University with a B.S. in Business Administration as one of only two female graduates in the Business College.
Thanks to her generous philanthropy, the St. Petersburg College Foundation established the Helen K. Leslie Legacy Society to recognize alumni and friends who provide visionary support to the college through their estate plan. Like Helen, members of the Helen K. Leslie Legacy Society serve as a model for others considering financial commitments to the Foundation and College.
Helen was president and owner of J&W Supply House, Inc. and co-owner, secretary and treasurer of Krauss Company, Krauss Roofing Company, Inc. and Stone and Clay Products Corporation. She served as a member of the Chamber of Commerce, the Advisory Committee for Vocational, Technical and Adult Education for the Pinellas County Schools and co-chair of the Executive Committee for Goals for St. Petersburg.
She received the Outstanding Service to St. Petersburg citation in 1962. Beyond this community, Helen was active in statewide organizations including the Florida Commission on the Status of Women, the Florida Federation of Business and Professional Women's Clubs, the Florida Elections Commission and Florida Textbook Evaluation Committee. She was involved nationally and internationally with several organizations including the National Advisory Council for Small Business Administration and she received a Certificate of Achievement from the American Bureau for Medical Aid to China for her outstanding service.