Explore the history of St. Petersburg College
In the 1920s, people in St. Petersburg began to talk about the need for an institution of higher learning to provide job skills training to local residents of modest means. At the time, higher education only was available to those who could afford to travel to distant cities and stay there long enough to complete their studies.
So in September 1927, with the backing of local business and political leaders, Florida's first two-year institution of higher learning, St. Petersburg Junior College, opened in an unused wing of the then-new St. Petersburg High School. Enrollment: 102, taught by a faculty of 14. The first college president was George Lynch who served also as Superintendent of Public Instruction, St. Petersburg Public Schools.
There were 48 members of the first graduating class in 1929. More than half received state teaching certificates. At the time, the need for certified teachers in Pinellas County was great and growing and a two-year college diploma was all that was needed for certification.
In 1931, the college, which was now in its own building overlooking Mirror Lake in downtown St. Petersburg, became fully accredited and has remained so to this day.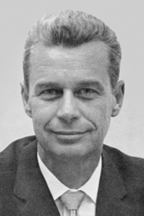 Dr. Michael Bennett
Growth prompts opening of St. Petersburg/Gibbs Campus
Upon President Reed's death in 1944, Vice President Roland Wakefield took his place. While serving as SPJC's president, Wakefield became president of the Florida Association of Colleges and Universities. He retired from the college in 1950 and was replaced by SPJC's Dean of Men, Michael Bennett. During his tenure, which lasted until his retirement in 1977, Dr. Bennett served on numerous state and national boards including as president of the Southern Association of Junior Colleges and as secretary of the Commission on Higher Education for the Southern Association of Colleges and Schools.

In 1965, the predominately African-American Gibbs Junior College merged with St. Petersburg Junior College under Dr. Bennett's leadership. Also that year, a new campus on Drew Street opened in Clearwater. By 1970, SPJC classes also were offered at an SPJC Center in Tarpon Springs.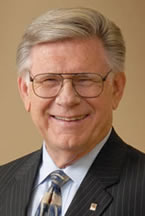 Dr. Carl M. Kuttler, Jr.
Dr. Carl Kuttler, Jr., President 1976-2009
Dr. Carl M. Kuttler, Jr., SPJC's longest serving president, accepted the position upon Dr. Bennett's retirement in April 1976. Dr. Kuttler retired in December 2009 after overseeing the openings of the Health Education Center in 1981, the Allstate Center (public safety) in 1988, the Seminole Campus in 1998, the Downtown (2005) and Midtown (2003) centers and the transforming of St. Petersburg Junior College into the baccalaureate degree-granting St. Petersburg College in 2001. In 1998, the American Association of Community College Trustees named Dr Kuttler the most outstanding community college president in the nation.

Upon Dr. Kuttler's retirement in December 2009, Dr. Thomas Furlong, former senior vice president for Baccalaureate Programs and the University Partnership Center, was appointed by the Board of Trustees to serve as interim president during a nationwide presidential search.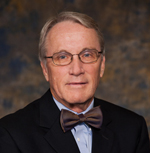 Dr. William D. Law Jr.
Dr. William D. Law, Jr., President 2010-2017
Since his arrival in 2010, Dr. Law's focus was on student achievement, faculty enhancements and workforce education and training. Learn to Earn, a reasonably-priced certificate program for the unemployed or under employed in need of skills enhancement, helped students complete job training in fields such as health care, office work and law enforcement in as little as 10 weeks.

Also under his leadership, SPC's Institute for Strategic Policy Solutions opened on the Seminole Campus. The institute will have a number of missions, all tied to improving public policy and preparing students for careers in the public sector.

In 2010, the college and Gibbs High School entered into a partnership designed to help raise academic standards at the struggling high school and better prepare its students for college work. SPC offered resources, including facilities and faculty and student tutoring, to Gibbs students.

A Center for Excellence in Teaching and Learning (CETL) was formed in 2010 to help enhance learning opportunities for students and faculty on all campuses.

In 2012, the college started The College Experience, an initiative aimed at preparing students to succeed in their courses and finish what they start.
Dr. Law retired in July 2017.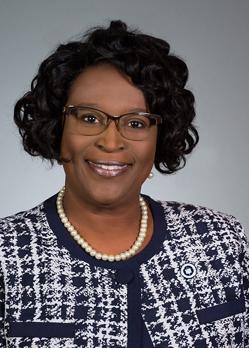 Dr. Tonjua Williams
Tonjua Williams, Ph.D., President 2017-
Tonjua Williams, Ph.D. became St. Petersburg College's seventh president on July 3, 2017. A St. Petersburg native, Dr. Williams began her tenure with the college in 1986, rising through the ranks in a variety of academic and administrative roles.

Prior to becoming President, Dr. Williams was Senior Vice President for Student Services from 2013 to 2017. She has served in nearly every area of the college: Provost, Associate Provost, Director of Special Programs, Program Coordinator, Academic Advisor, Recruiter, Senior Accounting Clerk and Adjunct Faculty.
Dr. Williams earned a Ph.D. in Higher Education Administration from Barry University, a master's degree in Counselor Education from University of South Florida, and bachelor's degrees in Business Administration and Humanities from Clearwater Christian College.
Decades of academic and community investment
The above initiatives are some of the more recent ones established at SPC. Over the years, the college has invested its resources in the Leepa-Rattner Museum of Art on the Tarpon Springs Campus, a Music Center with two Steinway concert grand pianos and a Heissler pipe organ on the St. Petersburg/Gibbs Campus, the Palladium Theater in downtown St. Petersburg, an EpiCenter in Largo with a Collaborative Lab built in partnership with Pinellas County to support higher education and business development, St. Petersburg Collegiate High School and an Early College Program for academically- focused teenagers, a University Partnership Center that offers baccalaureate, master's and doctor's degrees from 15 universities in Florida and across America, state-of-the-art classroom technology at all nine learning sites, online learning opportunities, inter-collegiate sports for men and women, and advanced education and training for faculty and staff including travel opportunities.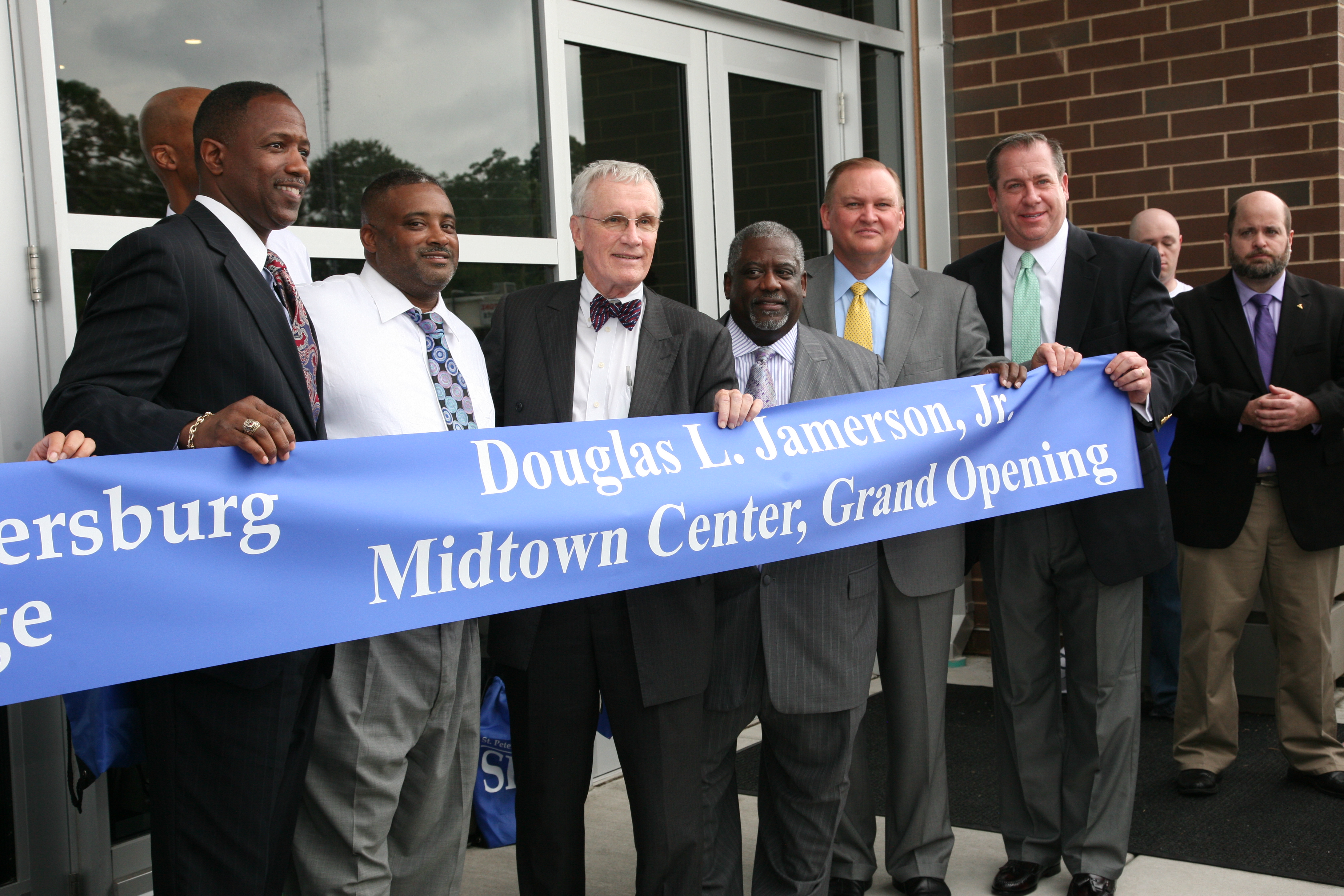 Douglas R. Jamerson Midtown Center
In 2015, SPC opened the new 49,000-square-foot, state-of-the-art campus located in the heart of St. Petersburg's historic Midtown neighborhood. The new center expands on the educational opportunities previously housed in the original 10,000-square-foot facility that opened in 2003 just blocks from the new center. Graphic art installations tell the story of the rich history of Midtown and 22nd Street - affectionately nicknamed "The Deuces."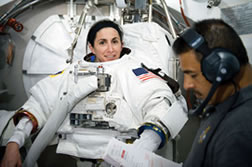 Alumna Nicole Stott participates in an Extravehicular Mobility Unit (EMU) spacesuit fit check.
Notable alumni
Among the school's more prominent alumni are two NASA astronauts, Nicole Stott and Samuel Durrance; Bob Carroll, a writer and creator of the I Love Lucy television show; aquanaut Sylvia Earle; movie actress Carroll Baker; rock musician Jim Morrison of The Doors; Wendell Ware, a creator and leader in the development of microfilm, microfiche and ultra fiche; Howard Johnson, who played on the New York Mets World Championship team; Lobo (Roland Kent Lavoie), pop singer; David Muse, who played flute and sax with Firefall and the Marshall Tucker Band; numerous authors; artists; judges; lawyers; political leaders; and local and national business and civic leaders.

St. Petersburg College continues its long tradition of excellence wrought by dedicated faculty and visionary leadership. Affordable, accredited and comprehensive in its offerings, SPC continues to be responsive to community needs and committed to student success.