ENJOY SPC PLANETARIUM SHOWS FROM HOME
You have a front seat to view the starscape with SPC's Star Home Theater! SPC's resident astronomer Dr. Craig Joseph will host a series of planetarium shows via Zoom through September 2021.
All shows are free, open to the public and start at 7 p.m. Check out the upcoming at-home star shows or the college's event calendar at spcollege.edu/events, including links to sign up for shows.
Please note: The SPC Planetarium will remain closed for in-person showings through the remainder of 2021. We hope to reopen in January, but that is not yet definite. Any changes in the status of the planetarium will be announced on this website, so please check back for updates. In the meantime, you are welcome to attend our virtual planetarium shows.
Star Home Theater: Legends of the Fall
Oct. 8, 15, 22, 29
There is much drama in the fall skies! The queen Cassiopeia has offended the Gods, placing her daughter Andromeda in great peril. Will Perseus get there in time to save her? Join us as we explore the mythology of the autumn skies.
Star Home Theater: Odds and Ends
Nov. 5, 12, 19
What stars and constellations were visible the night the Titanic went down? What would the Sun look like from the surface of Pluto? What will the Big Dipper look like 50,000 years from now? Find out as we explore some of the features of the popular program Stellarium.
Star Home Theater: Yuletide Skies
Dec. 3, 10, 17
The planets Venus and Jupiter continue to dominate the early evening sky. Go back in time 2000 years to see how these planets may have inspired the Biblical account of the "Christmas Star".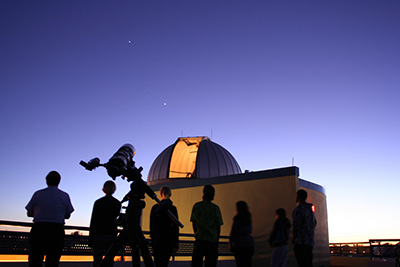 EXPLORE THE STARS AT SPC'S PLANETARIUM AND OBSERVATORY
The St. Petersburg College Planetarium and Observatory are great places for all ages to explore the universe. The planetarium is a "star theater" with a 24-foot domed ceiling that can accurately simulate the night sky at any time or location on Earth.
ROOFTOP OBSERVATORY
The St. Petersburg/Gibbs Campus is also home to a rooftop observatory, featuring a 20-inch reflecting telescope that is open to students and the public after planetarium shows. Additional telescopes are available on our spacious third floor observation deck. Special telescopes equipped with solar filters allow daytime visitors to safely view sunspots, prominences and other solar activity.
PLANETARIUM LOCATION
The Planetarium is located on the second floor of the Natural Science Building (SC 205) on the St. Petersburg/Gibbs Campus located at on 69th Street North at 5th Avenue. Free parking is available for the celestial shows.joseph.craig@spcollege.edu