From acting, stage production, costume and set design to house management, the theater arts program at St. Petersburg College empowers students to explore their creativity and hone their stagecraft. Take a course or two, or earn an A.A. in our Theatre Associate in Arts Transfer Plan.
Fall 2020: ON THE VERGE by Eric Overmyer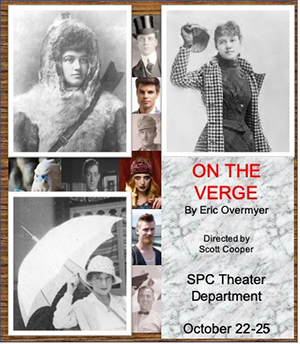 Directed by Scott Cooper
Performances (on Zoom): Oct. 22-25 at 7 p.m.
Synopsis:
The year is 1888 when Mary, Fanny and Alex, three women who are each intrepid world explorers in their own right, band together to conquer Terra Incognita, the last and most mysterious of unexplored territories.
As they bushwhack their way through jungles, brave treacherous ice sheets and negotiate passage across a bottomless gorge, the ladies reminisce about their past adventures and sort out their personality differences. They encounter a chameleonic cannibal, an adorable young Yeti, and a troll demanding a toll…. as well as a number of mysterious artifacts: egg beaters, dirigibles, political campaign buttons, and newspaper clippings from the 1900s…
On this one-way journey through space and time, each lady discovers her own unique destiny in the beautiful, loud, and brightly lit future.
Audition Information
Audition videos will be accepted Aug. 24-28. Contact cooper.scott@spcollege.edu for more information.
Fill out the audition survey for ON THE VERGE. Opens Aug. 21.
---
Rosencrantz And Guildenstern Are Dead by Tom Stoppard
Directed by Betty-Jane Parks
Performances: TBD
Synopsis:
The play takes place mainly "in the wings" of Shakespeare's play Hamlet, with brief appearances of major characters who enact fragments of the original's scenes. Between these episodes the two protagonists voice their confusion at the progress of events occurring onstage without them in Hamlet, of which they have no direct knowledge.
Auditions: TBD. More information contact cooper.scott@spcollege.edu
---
Summer Musical: TBD
Started in 2017, SPC's Summer Musical Theater Program has grown steadily in reputation and size. BroadwayWorld.com listed the program's last two productions, URINETOWN (2018) and PIPPIN (2019), among its "Top 10 Productions in Tampa Bay."
This summer program is open to local high school and college students (both from SPC and other colleges) who are interested in acting and technical theater. Auditions begin in May with the program running for five weeks. Performances start at the end of June.
Summer 2021: The Summer 2021 productions have not yet been determined. Please check here for updates.
You can take theater classes as electives for your Associate in Arts degree or to meet common prerequisites for your chosen four-year major.
Learn more about learning plans for theater:
Explore SPC theater classes
A liberal arts education with courses in theater can serve as the foundation for advanced degrees and professions such as law, medicine and business, as well as teaching, acting, directing and producing.
Explore your options
My Career Shines - Plan your future with MyCareerShines from the Florida Department of Education
SPC Career Pathways - A partnership between SPC and the Pinellas County School Board that gives high school students free college credit for high school and technical programs.
By the numbers
Occupational Outlook Handbook – Job profiles covering hundreds of occupations from the U.S Bureau of Labor Statistics
Career One Stop - Tools for job seekers, students, businesses, and career professionals from the U.S. Department of Labor
What People Are Asking - Florida job and wage data for specific areas from Florida's Labor Market Statistics Center
We are offering two $500 scholarships for theater students this term. If students are interested, they should fill out the paperwork found in front of CR 154 and turn it in to Scott Cooper. Actors will be required to audition for both plays if they would like to be considered for the scholarships. Technicians will be able to set up an interview with Scott Cooper to fulfill their requirements for the scholarship.
I Am 4 Art, U Can B 2 Scholarship
Established by Diane Nelson and friends of the arts to provide assistance to students with demonstrated financial need, a 3.0 GPA and a commitment to complete a degree program in the Fine Arts.
Get details on how to apply for Foundation Scholarships like this or research other Financial Aid Scholarships.